Read Time:
6 Minute, 0 Second
The Story of Corrupt Chairman Ken Richardson
Ken Richardson isn't a name many outside of Doncaster will know, but his story isn't one many forget!
The disgraced businessman had numerous brushes with the law – and he is a figure of vitriol for the part he played in tearing a football club.
But what happened to this corrupt chairman? Read the FULL story!
Richardson made his fortune with East Riding Sacks but gained notoriety as Doncaster Rovers' chairman in the early 1990s after a brief stint as president of Bridlington Town Football Club.
His time with the Vikings was a disaster, however, as the club went broke and fell out of the Football League.
Managers came and went from the Belle Vue Stadium, struggling to work under a micro-managing crook, and his ownership was ended after he was charged with a criminal plot.
So, what on earth happened with Richardson at Doncaster? The Sporting Blog tells the full story!
Richardson's Horse-Racing Scandal
Ken founded East Riding Sacks in his 30s – a company that originally manufactured potato sacks for local farmers – but he claimed to make a lot of money from gambling.
Richardson was a racing enthusiast and conspired to make a small fortune on one race after entering an illegitimate horse at Leicester Racecourse in 1982.
Trainer Stephen Wiles and Richardson entered Flockton Grey in a race for two-year-olds, and they were given 10/1 odds due to the fact that his stable hadn't had a winner for a number of years.
Grey stormed to victory by 20 lengths, immediately arousing suspicion. Bookies refused to pay out until an investigation was completed, and it turned out there was foul play.
Wiles and Richardson actually entered three-year-old horse Good Hand in the competition who had a significant size and speed advantage over the field.
They bet £20k on the horse and spread the money around multiple bookmakers to avoid suspicion, but they were eventually rumbled.
The investigation revealed a scar that the real Flockton Grey didn't have. And they discovered the winning horse's teeth were too developed for a two-year-old.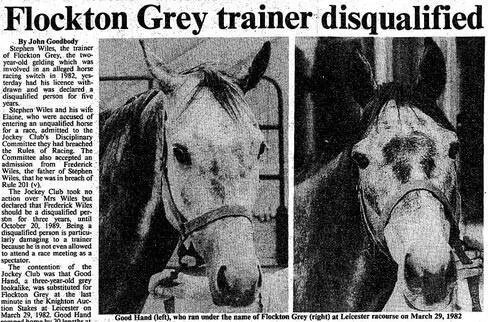 Richardson was found guilty of conspiracy to defraud. He was fined £20k while being forced to pay £25k in legal costs.
The disgraced businessman was given a nine-month suspended jail sentence while being banned by the Jockey Club for 25 years, so he turned his attention to football…

Bridlington Bankruptcy
Richardson became Bridlington Town's owner in 1991 and funded a 760-seat main stand, clubhouse, turnstiles and set of floodlights.
He hired an experienced manager in Colin Richardson who recruited players from former clubs and ended up winning the FA Vase and HFS Loans League First Division Title.
But after legal troubles forced Bridlington to play 60 miles from their ground, at Belle Vue coincidentally, fans disappeared and the club would suffer relegation before bankruptcy.
Supporters accused Ken Richardson of gross financial mismanagement, but he was free to move on to Doncaster after taking them over. Bridlington Town AFC re-formed in September 1994.
Doncaster Demise
The disgraced businessman became the majority shareholder of Doncaster on March 10, 1993 after his Isle of Man-based company Dinard Trading Ltd. bought a controlling stake.
Richardson portrayed himself as Doncaster's saviour, with the club languishing in the bottom half of the fourth tier, but his reign couldn't have gone worse.
He controversially appointed his daughter and niece as directors on a three-person board, reportedly saving the third spot for his friends.
Doncaster finished 16th in 1992/93 and Richardson sacked Steve Beaglehole months into the new campaign after a poor run of results.
Ian Atkins replaced him, but he lost his job at the end of the 1993/94 season after refusing to move from his home in Solihull. The Rovers finished 15th.
Sammy Chung replaced him and led the Vikings to 9th in the table. Doncaster finished 13th in 1995/96, but Chung lost his job to Kerry Dixon. Reports suggest he was sacked just one hour before their season opener.
Months later, Dixon revealed to supporters that Richardson was picking the team.
The Rovers finished 19th in 1996/97, barely staving off relegation, and were placed into Administration after a High Court hearing into a winding-up order. The team owed nearly £4m.
The lack of funds meant cost-cutting measures were necessary, and any valuable assets at the club were deemed expendable. This meant Doncaster didn't have a squad that could compete in the Third Division.
Dixon resigned after a fallout with Richardson, and the Rovers finished 24th with only 20 points in 1997/98, going through five managers in one season (Dixon, Richardson, Dave Cowling, Danny Bergara and Mark Weaver).
Ken had full autonomy over signings, the starting eleven, team talks and substitutions.
He brought in subpar non-league players to keep the Rovers in the Football League and was even in the dugout as caretaker boss at times, so it wasn't a shock to see Doncaster relegated after 65 years.
Fans invaded the pitch and held a protest on the final day of the season, willing Richardson to leave. Their wish was granted weeks later with Irish consortium Westferry buying Doncaster in the Summer of 1998.
All Dinard Trading and Ken Richardson's shares were transferred to Westferry, so he was finally gone from the club..
Ken Richardson's Arson
Ken was gone but not forgotten, however, after being found guilty of conspiracy to commit arson at Belle Vue Stadium in June 1995.
Only months after being bought out, he was sentenced to four years in jail after his plot to burn down the ground was unsuccessful.
Richardson had wanted a new stadium for Doncaster ever since he took over the club. He put Belle Vue up for sale just months into his reign, ignorant of the fact that Doncaster Council own the ground and leased it to the Rovers.
And after his plan to redevelop the stadium was thwarted, he took matters into his own hands.
Richardson offered £10k to Alan Kristiansen to start a fire at Belle Vue, but the former SAS soldier was quickly found out after leaving his mobile phone, a haversack and petrol cans in the wreckage.
There was also a message from Kristiansen on Richardson's answering machine saying "The job's been done."
Kristiansen was sentenced to 12 months in prison. Ian Hay and Alan Cracknell pleaded guilty to arson and were sentenced to nine months, suspended for two years.
Richardson was sentenced to four years after causing £100k worth of damage to the mostly wooden stadium.
Football Pink said in 2021 that Ken Richardson was living in the Isle of Man in his mid-80s, staying out of the public eye since leaving the Rovers. He's unsurprisingly a pariah among Doncaster fans!